We have always been clear that the answer to 'what works' in children's social care will come from those closest to it  – from social workers, from young people and care experienced people, from parents and carers, from senior leaders, from academics, charities and private sector providers. This is why we want to ensure all of these people are involved in setting our research priorities for 2020 and beyond.
Building consensus
We understand that different groups will have different views and priorities, and it is important they are all heard and considered. 
But in order to take on board these views in a useful way – and ensure the research we conduct in the future has the greatest possible impact – we need to bring these different views together. To do this we will be using a modified version of the Delphi method. Our version of the Delphi method involves bringing together groups of individuals to respond to online surveys to identify and then score potential topics for research.
They then receive anonymised feedback on others' responses and are presented with the survey again. This should work to build consensus on priority topics among groups, whilst also allowing issues of high priority for a particular group to shine through.
How can I get involved?
We are looking for people to join several online panels including:
Children's social care professionals
Young people
Care experienced people
Parents
Carers
Senior leaders
Academics
Third sector organisations
Private providers
If you are interested in participating in the process, the second survey is now live and you can complete it here.
What will you do with the findings?
The priority list produced from this will be front and centre when we make decisions about what research we support in the coming year and beyond.
This list will help us decide which projects to undertake, where we should invest time, resources and funding, which projects should be awarded grants, or should be included in our Practice in Need of Evidence programme. 
We want to create evidence that is most useful to those closest to children's social care, so please do get involved to ensure that the work we do reflects the things you believe to be most important.
Progress
In our first survey we presented a 'long-list' of potential research topics that were collated from both the existing literature and conversations with our stakeholder groups. We asked participants to add topics we might have missed and flag anything that ought not to be a research priority for our centre.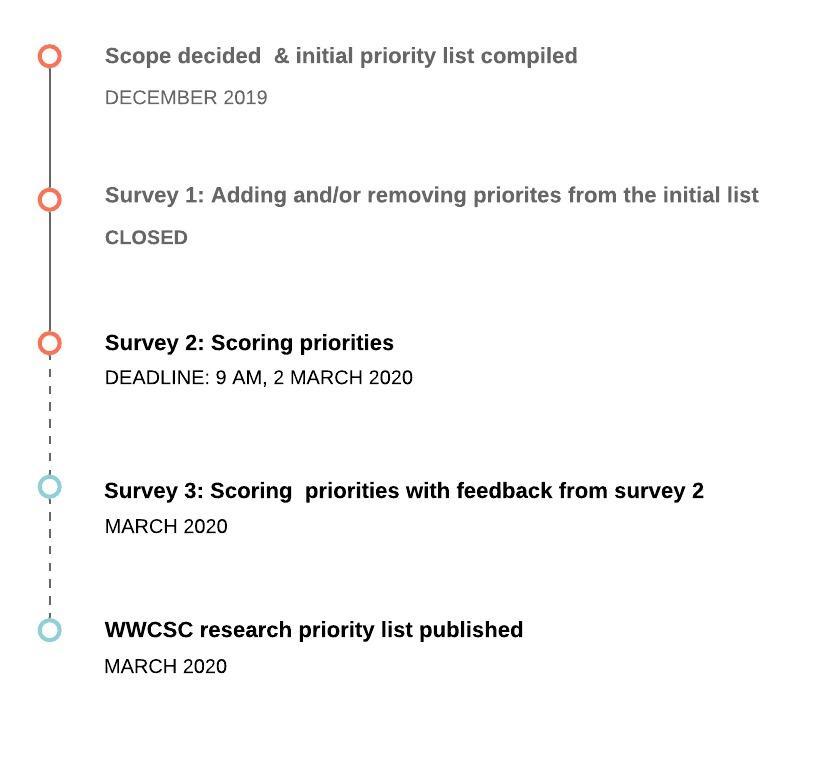 We are very pleased to report that 191 people completed the first survey, and provided many thoughtful comments and additions!
In the second survey, we will present this updated priority list, and ask participants to score the presented topics according to how much this item should be prioritised in our research. This survey is now live until 9am on the 2nd March.